Wealthy Affiliate Overview
Platform: Wealthy Affiliate
The platform was created: in 2005
Type of platform: Affiliate marketing training
What can you learn here: How to start an online business and how to make

passive

income online by doing affiliate marketing
Price: FREE Plan + Premium Membership and Premium Plus membership ($49 or $99 monthly or $495 or $697 yearly)
Platform creators: Kyle and Carson
Is it a scam: No
Does the platform bring proven results: Yes, you will see some of the results below (Real Proof)
How long have I been a member of the platform: 8 years
Is there support and mentoring: Yes
Community: Yes, of over 2.7 million active members
Rating: 4.9 out of 5
     Free Trial: YES. Get Rolling Here! (no credit card required)

Topics I Will Cover in This Wealthy Affiliate Review:
What Is a Wealthy Affiliate?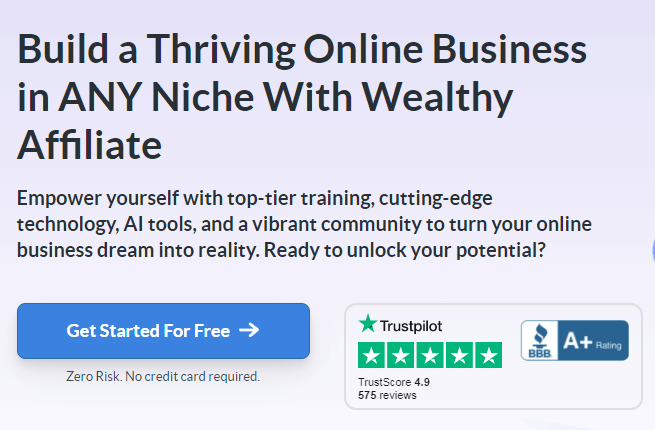 Wealthy Affiliate is one of the most popular training platforms today when it comes to affiliate marketing and creating an online business.
It is important to say that this platform was created way back in 2005 by two guys called Kyle and Carson.
This platform has a great community of over 2.6 million people who are just simple people like you and me who want to start making money online.
The main goal of the Wealthy Affiliate is to help you and educate you on how to start an online business by doing affiliate marketing as it is definitely one of the best ways you can start making passive income online.
Here are the main features that you are getting inside the Wealthy Affiliate platform:
Affiliate marketing training (step-by-step)
AI (Artificial Intelligence) training
Websites, hosting, domains
Keyword research tool
Live help and tech support
Interactive Community
Lucrative affiliate program
Live weekly classes
1 on 1 mentorship
Earn while Learn system
and much more
You should also know that Wealthy Affiliate is not only an educational platform but you can actually make and host your websites there and you will learn how to do that step by step in their high-quality training.
WA has an awesome Website Builder where you can make your first website completely for free.
The great thing is that Wealthy Affiliate is everything you will need to start your own online business, you don't need to look for information or help on the Internet, you have everything in one place and that is priceless.

Who Are the Creators of the Wealthy Affiliate Platform?
The platform was launched 18 years ago, in 2005. The owners, ie the creators of this platform, are two family boys, Kyle and Carson. I had a private conversation with both of them and I can tell you that they are really wonderful people.
They have been friends since high school and, as they say, they wanted to start their own online business, not to work for anyone else, but at the same time they wanted to help other people work only for themselves.
You can be 100% sure that they are EXPERTS in what they do because I make money from my website thanks to what they teach me.
Below you can see an image of my first earnings (after 2 months) sent to me by Wealthy Affiliate on PayPal. Not much but that happiness can't be described when you see that your effort is finally paying off.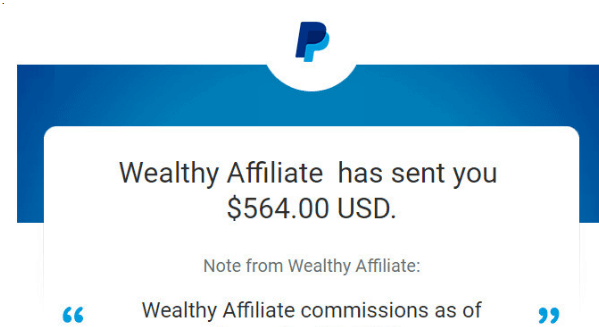 How Does Wealthy Affiliate Work? (4 Simple Steps)
Wealthy Affiliate works pretty simply. Your main focus should be on the training because it will teach you step-by-step how to create a successful niche website that will bring you passive income for years.
Here are 4 main steps you are going to learn inside Wealthy Affiliate.
Step 1 – Choose Your Passion/Niche
As for "passion", I mean a certain niche. Whether it's cooking, weight loss, pets, etc .. it is important to choose what attracts you, and training on the Wealthy Affiliate platform will help you.
When I was starting out I focused on losing weight, I wanted to help people lose extra pounds by writing on my blog about various diets and weight loss products.
Whenever someone bought a product that I promoted on my site, I would earn a percentage of sales, it is called affiliate marketing.
I am sure that many of you regularly shop online and you are not even aware that the owners of those sites from which you buy make quite a lot of money.
That is the mission of the Wealthy Affiliate platform, to teach you how to make a great site where people will buy through your website, that is, the products you promote.
Finding the right niche for your website was never easier than now and you know why?
Because Wealthy Affiliate has integrated AI (Artificial Intelligence) into their platform that allows you to find a profitable micro niche literally in seconds. (Take a look at the image below!)

You only need to enter your passion or hobby and AI will give you great ideas on what could be your website niche.
This is the first step you will need to take to be able to make money through your website because
Profitable Niche = Big Earning Potential
And the great thing is that you have a step-by-step guide inside the WA platform on how to choose a profitable niche for your online business.
Step 2 – Create a Website
When it comes to creating a website, it couldn't be easier. On the WA platform, this does not take longer than 30 seconds, so in 30 seconds you will have your website (empty of course) where you will write content later.
In less than 1 minute you are going to have installed and profit-ready WordPress website.
Step 3 – Attract Traffic To Your Website Through SEO
When it comes to attracting audiences (people) to your site, there's a bit of work to be done but don't worry. Only patience and time are important to you here.
How will you attract people to your site?
Writing about what people are looking for on Google and using SEO techniques Wealthy Affiliate will teach you inside the training.
With the new AI technology that WA introduced it has never been easier to write quality blog posts for your website!

You are probably searching for something on Google every day, such as "how to lose weight by summer", "how to make a cardboard table", "what are the best exercises for the buttocks" and so on… After searching you will see a list of sites that have covered your interest.
It is your job to write about what people are searching for and how will you know what they are searching for on Google? Very easy, and that's what WA training will teach you!
You will learn SEO optimization which is very important for getting blog visits!
Step 4 – Make Money By Using Affiliate Marketing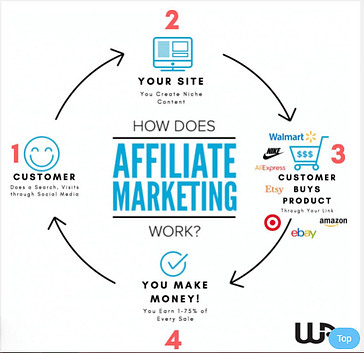 In the end, comes the sweetest part, earnings.
There are countless ways you can make money from your website, you can use Google Ads (place ads on the site, and when someone clicks you make money), and you can sell your site after a while (depending on earnings, if your site earns $2000- $3000 MONTHLY you can sell it for $20.000- $ 30.000 which is fascinating).
Wealthy Affiliate teaches you to make money primarily through Affiliate Marketing, meaning promoting certain products or services from which you get a percentage after each successful sale.
My passive affiliate earnings, thanks to the Wealthy Affiliate training! Just look at those sweet commissions! It's a passive income!


NOTE: You do not have to have any experience in creating websites or any sort of marketing, in the training of this platform everything is step-by-step.
The training is mainly aimed at beginners who want to start their online business.
Your First Steps On The WA Platform
You will see that when you register for free on the platform, how easy the platform actually is to use.
Everything is in one place so you can't get lost.
In the picture below, you can see the initial interface, that is, the home page after successfully registering on the platform.
This is the old FREE account that I created back in 2017.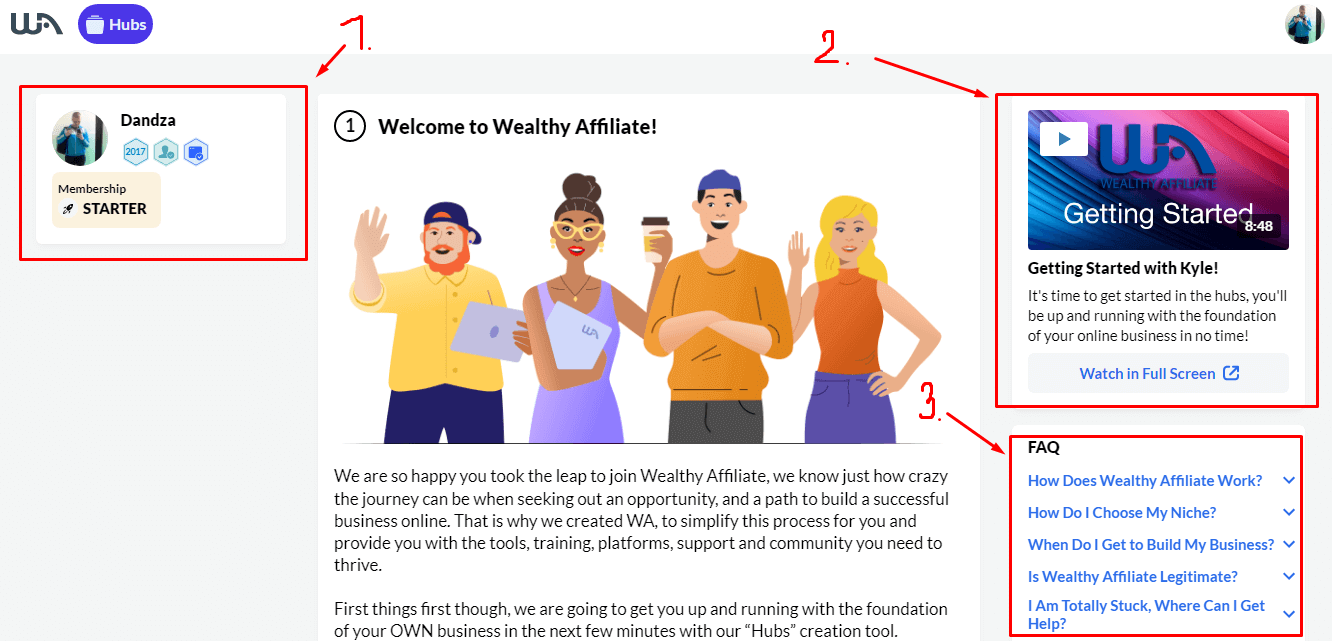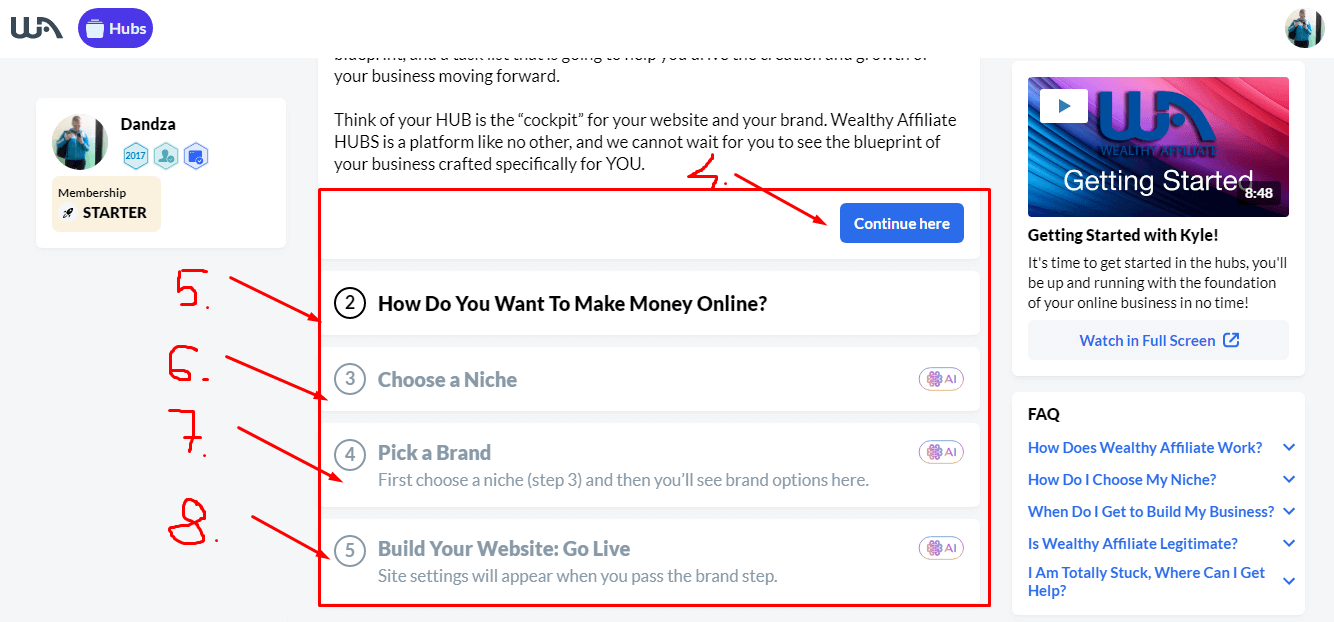 When you register on the platform, you only have a few simple steps (Image above):
Your Profile – There you will see your username with which you registered on the platform as well as your membership, which will be STARTER at the very beginning.
Introductory Video – In this video that you must watch and listen to, Kyle (creator of the platform) talks about how you will make money online and talks in general about what the platform is, what it offers and what steps you need to take in order to successfully start working.
FAQ or Frequently Asked Questions – Here you can read answers to questions about the platform itself.
By clicking on Continue, you continue with the process of creating your first site.
How You Want To Earn – Here you will choose the first option, after which you should choose which niche you want to deal with on your site.
Choosing a Niche – Here you choose a niche with the help of an AI tool, you will see how easy it is
Choosing a Site Name and Domain – Here you enter the name of your site, which is also the name of your domain.
Website Creation – In this last step, you create your website in less than 30 seconds
After you go through these steps, you will need to move on to Training, which is step-by-step and concerns the development of your created site.

How Much Does Wealthy Affiliate Cost? 
Wealthy Affiliate is completely Free to join but free membership is only a test drive because you will need to upgrade to their Premium membership to be able to get full access to the platform, training, and community.
1. Starter (FREE) Membership ($0)
As I said, if you want to join WA you can do so completely free, you will need only an email address and username.
Here is what you get with a Starter membership:
Access to Level 1 of the training
Community access
Access to the Live chat
Ability to build 1 WordPress website
Access to WA's affiliate program
30 free searches in Jaaxy (keyword research tool)
Your personal mentor
Knowledge to start making passive income online
24/7 Support and Mentorship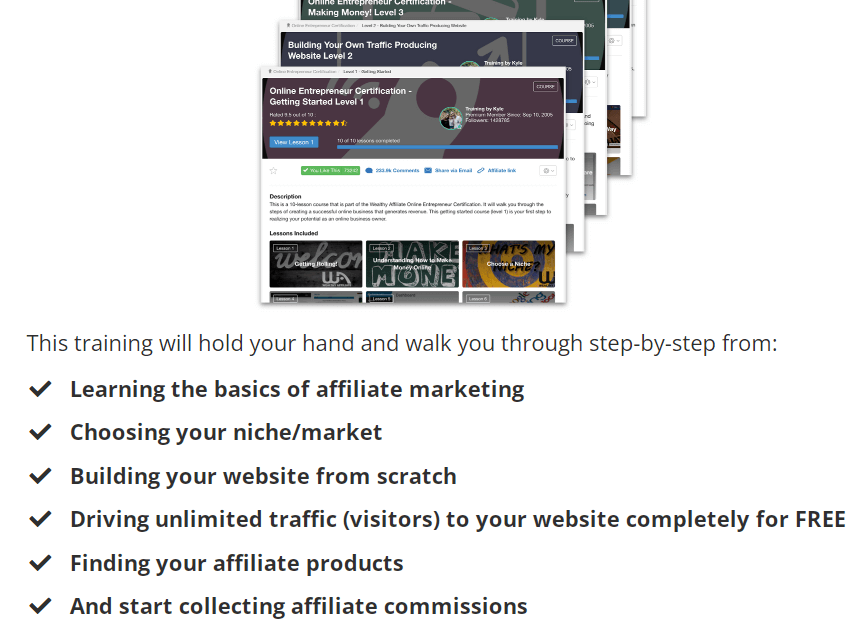 The starter membership is great because you can see that it is not a scam or anything similar, you will test the platform completely for free and you will decide if this is for you or not.
When you are sure about it you can upgrade to Premium membership and start making a great success.
2. Premium Membership ($49 Per Month or $495 Per Year)
With a Premium membership, you get literally everything. All lessons, unlimited 1-on-1 coaching, and more. If you are serious, this membership is for you.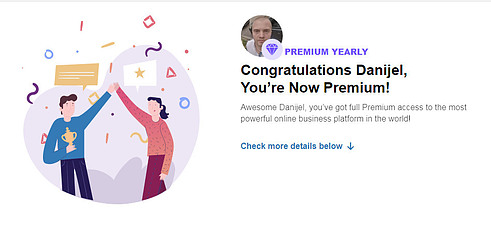 I tried a lot of training and platforms online and the worst thing that happened to me was that the lessons and training were very outdated.
On the WA platform, the lessons are always updated and always follow the trend, we are aware that technology is advancing very fast, so everything is changing and so is the online business, what worked 5 years ago does not work today and that is another benefit of this platform, which always updates training.
Here are some things that you get with a Premium membership:
Phenomenal Training about Affiliate Marketing
Unlimited help and support
Complete platform access
Access to an AI (Artificial Intelligence) Training
Unlimited access to ALL lessons (All 5 Levels)
Private messages – unlimited
Live chat where you can chat 24/7
10 websites – that's right, you can create as many as 10 websites that will bring you profit
FREE .com domain (worth $15)
Complete website security – your site is protected from various hackers and "intruders"
You can contact me (or anyone else) privately on the platform whenever and however many times you want (I am personally active there every day)
More than 50 video lessons which will teach you how to create a six-figure website
1-on-1 mentorship and support
And much more…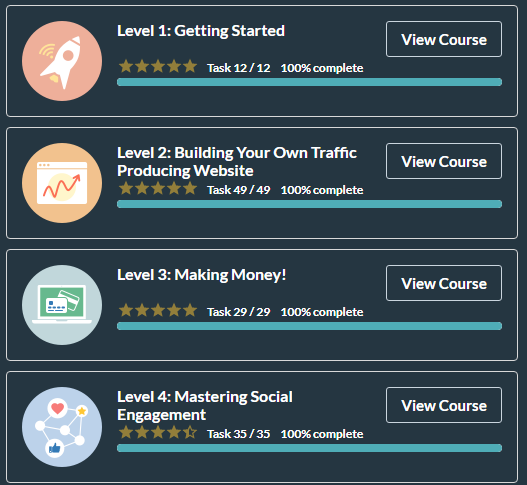 When we summarize what you get with a Premium membership, it is clear that you need to set aside hundreds and hundreds of dollars per month when it comes to other platforms, hosting, site security, training, etc…
and Premium membership on the WA platform is only $49 per month.
Premium YEARLY membership is only $495 and you have the option to go for a YEARLY Premium membership inside the WA platform with a great Discount!
Everything you get here for $49, in other places costs a few hundred dollars ($$$), even thousands.

Is Wealthy Affiliate For You?
Wealthy Affiliate is for EVERYONE!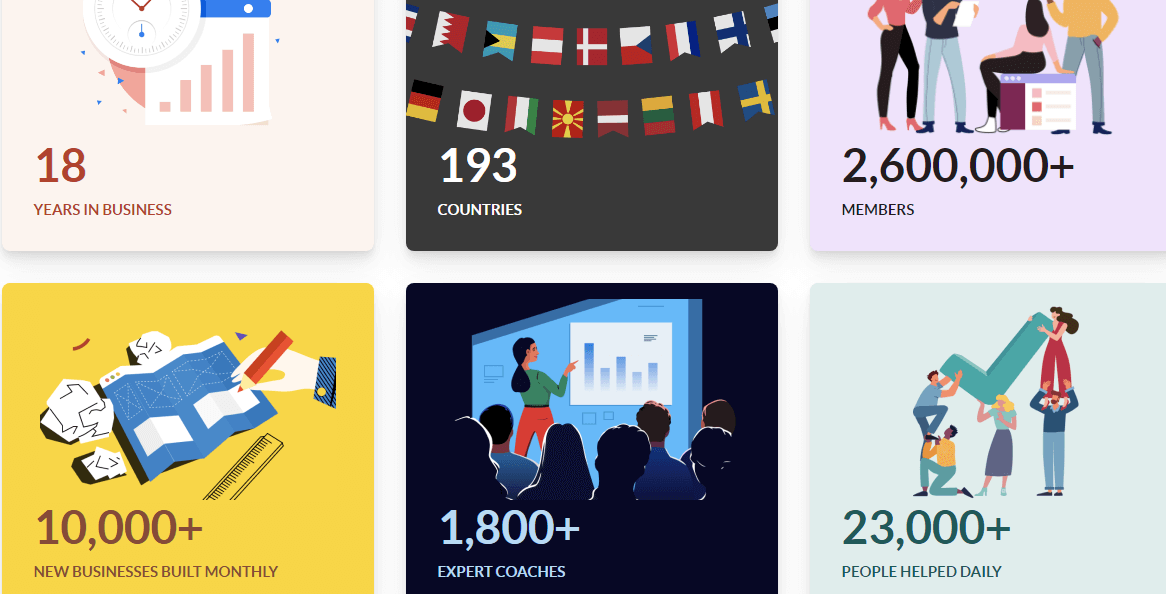 It does not matter if you are a parent, old, young, stay-at-home mom, or even stay-at-home dad, Wealthy Affiliate is for YOU!
Even if you already have your regular 9-5 job, Wealthy Affiliate CAN help you to become financially independent because you will learn how to make passive income using affiliate marketing. You will learn how to build your own online business!
You can work on Wealthy Affiliate part-time or if you do not have a regular job you can commit to it full-time and you will see how powerful it is and how it can change your financial life.
Also, Wealthy Affiliate is for those who like flexible work schedules. You are your own boss and you work when you want and how much you want.
Is Wealthy Affiliate a Scam? (Trustpilot Rating: 4.9 out of 5)
Nope, Wealthy Affiliate is not a scam. It is a 100% legit company that is teaching people how to start their own online business and make passive income on the Internet.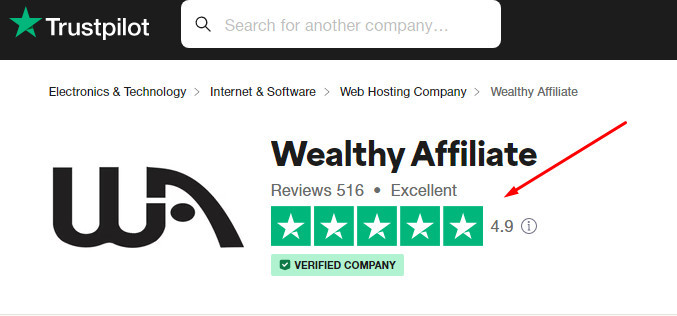 What I like the most about WA is that you are not getting promises about making fast cash online because it will take time and patience before you see great results and money getting into your bank account.
Wealthy Affiliate owners, Kyle and Carson are honest people and they really dedicated themselves to helping folks like you and me to have a better future when it comes to money by teaching us how to create an online business.
In my case, I am a Premium member of the platform for 8 years and I am making a full-time income online thanks to the WA training, support, and mentorship. I never plan to leave because this platform changed my life, trust me.
I promise you that you are going to fall in love with this platform and its community once you step inside, people are always ready to help you and answer all your questions and doubts.
When checking companies and platforms I like to use Trustpilot, a website where you can see REAL reviews by real people and you can also see a rating of the company.
At the time of writing, this review of Wealthy Affiliate has 522 reviews on Trustpilot, you can go there by yourself and check what experiences people have with this platform.
In the image below you can see some of the reviews taken from Trustpilot.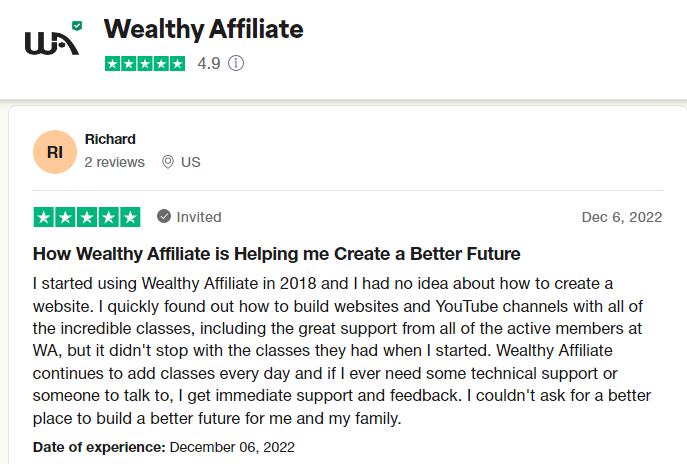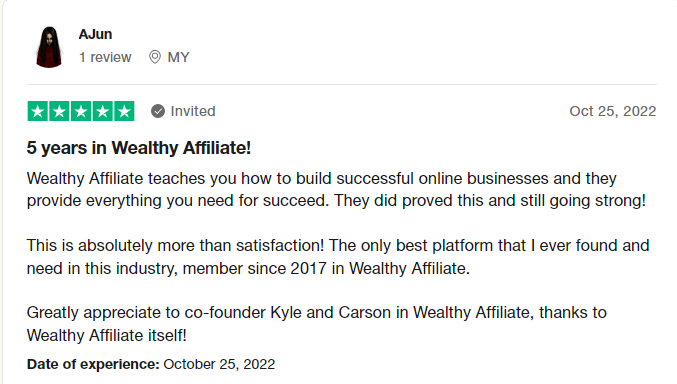 Wealthy Affiliate Members Are Making Great Success 
Below you can see some of the successes that members of WA accomplished (and are accomplishing) with their sites and with the help of affiliate marketing.
Your SUCCESS story could be next!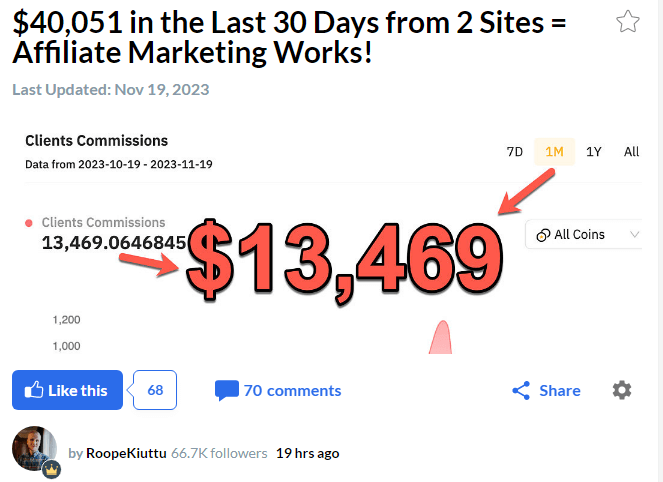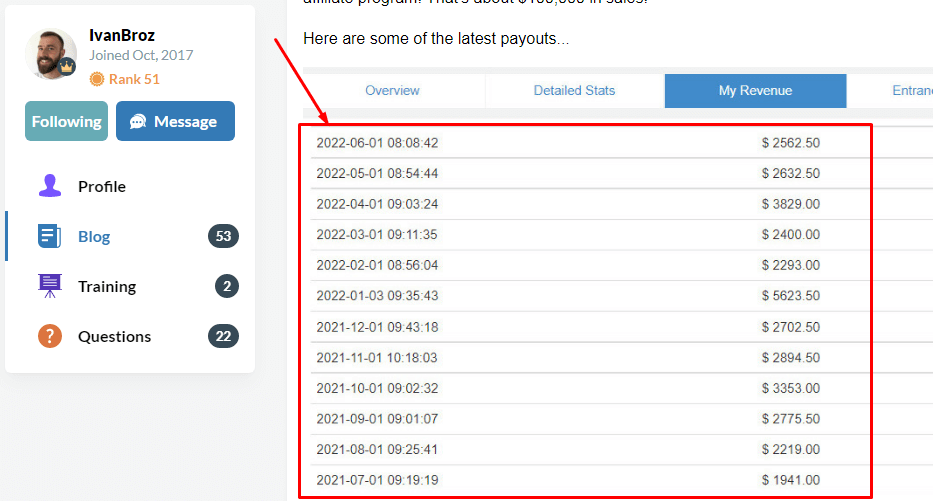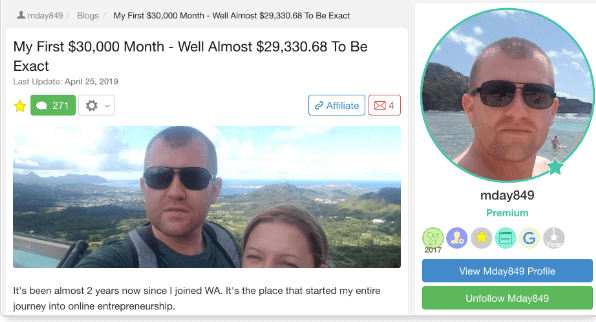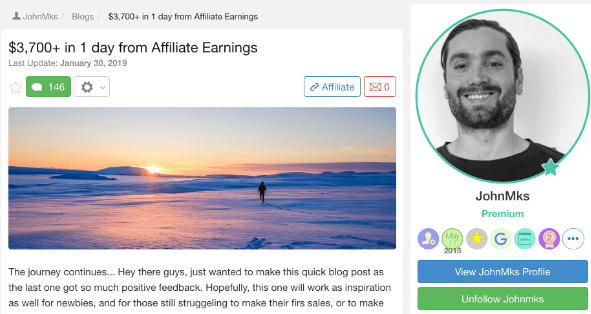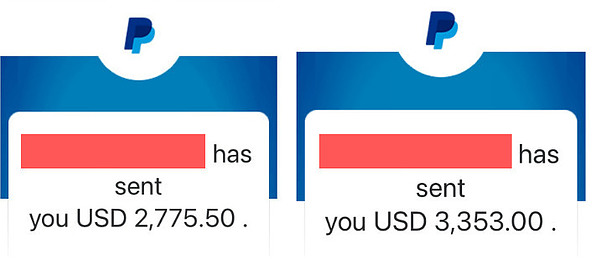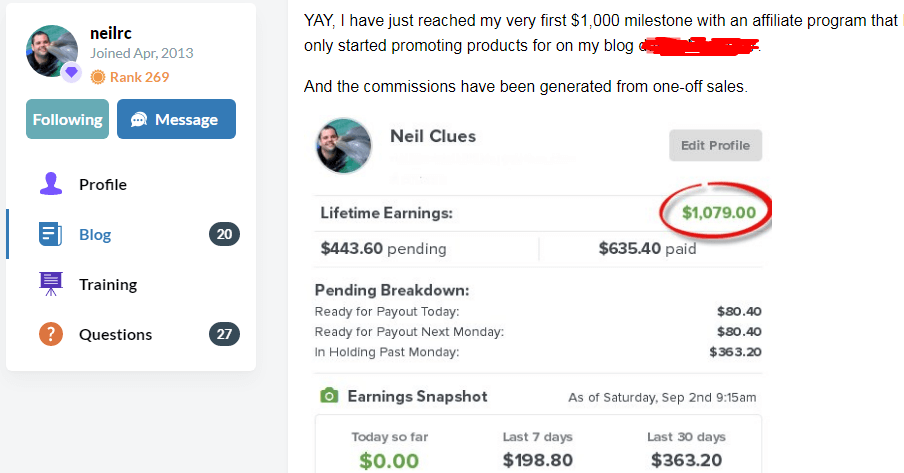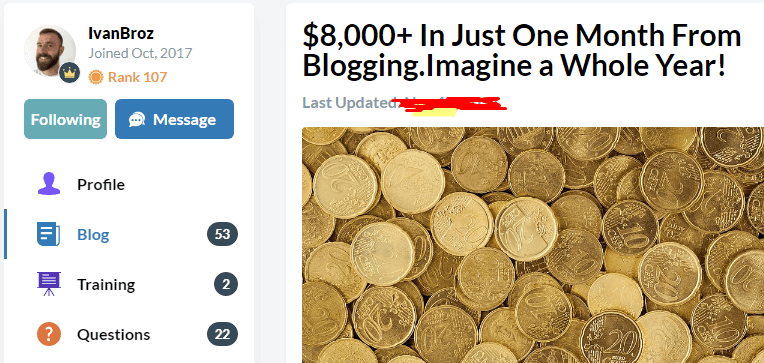 How Long Until You Start Making Money With WA?
From 1-3 months (Trust me, it's worth it!)
You may be wondering "Why such a long time? I want to earn money as quickly as possible!"
–  Well, the answer is simple. We are LEARNING here how to be successful and profitable and it takes time. You can't make money fast when you don't know what to do and how to do it.
Wealthy Affiliate will teach you everything step by step but it will take time. You will learn about building a profitable website, doing SEO, affiliate marketing, etc, and you need to give yourself time to succeed.
The point is that you are going to see great results even in your first month after you start following the training!
Just give yourself at least 2-3 months and you will be surprised with your online success.
My affiliate earnings after only 2 months!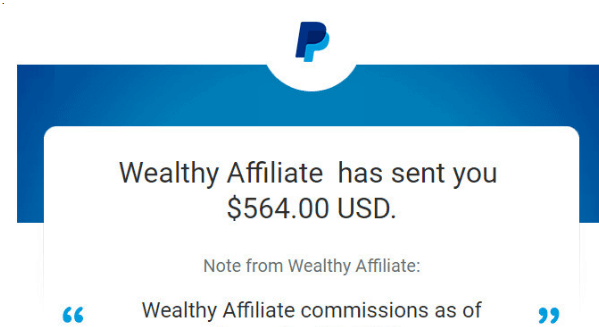 10 Things I Like About Wealthy Affiliate
Wealthy Affiliate Is Active For 18 Years and Counting
The Training Is Created For Beginners
Despite Negative Comments, WA Methods Still Work
The Premium Membership is AWEsome compared to other much more expensive programs
You Get All the Training, Tools, and Support
Live Weekley Webinars With Jay
Community Aspect is Simply Awesome
The site Support Team is Available 24/7
Kyle and Carson Update Wealthy Affiliate a Lot
Wealthy Affiliate Affiliate Program is Lucrative
Things I Don't Like About Wealthy Affiliate
A Mass Amount Of Education
Sometimes you can get distracted because there are so many ways you can make money online, that you want to do them all at once.
I suggest you focus on their core training when starting out, that will get you moving in the right direction.
How To Get Private 1-on-1 Training Inside WA?
1-on-1 coaching is included in Premium membership so once you become Premium you are going to have your personal mentor who will guide you and help you in the process.
This is important because there is a lot of information out there and you might get confused right at the start.
That is why your mentor will help you and answer all your questions!
When you register on the platform through my link, I am automatically your mentor who will guide you through the entire process of creating your site.
When you click on Help in the menu after registration, you will see my profile under Premium Coaches.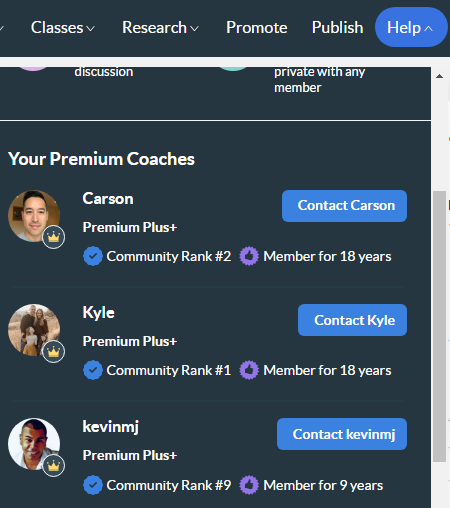 The moment you register on the platform using my link, I receive a notification and you will immediately receive a welcome message from me and you immediately start the action of creating your own website (in any niche).
Do I Recommend Wealthy Affiliate?
A Big YES!
This platform has existed since 2005 and the creators have never raised prices and as they say, neither will they. The platform is becoming more sophisticated and "updated" so you can be sure that you are getting a high level of quality.
If you are determined to start an online business now is definitely the right time to do so, don't miss this chance.
You are going to get great quality and all the tools you need to start making online success:
training course
hosting and domains
websites
research tools
live community help
technical support
private coaching
and more!
In the image below you can see my monthly income from my blog, I am getting that income every single month and it keeps growing.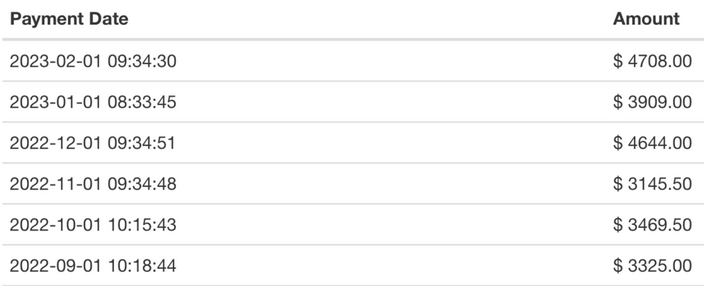 The point is that people are making success on Wealthy Affiliate, you will not get scammed or anything similar. You only need to follow what they teach you in the training and that's it.
This platform changed many lives and it can change yours too, I primarily mean on finances because we learn at WA to create a passive income online by building our niche website and making affiliate commissions.
So, yes, I recommend this platform to everyone who wants to start making passive income online and start their own online business that will generate income for years.
Final Words – Read Carefully!
Do you really think that $49 per month or $495 per year is a lot to accomplish financial freedom and have a better life? Honestly, I think it's not. Just take a look at where you are wasting your money every single day, I know you are wasting it because I was doing the same.
In the past, I would rather spend hundreds of dollars (in some cases thousands) on some bull*hit than invest it in the right thing, in myself and my future, BETTER future.
And nope, I am not telling you all of this to sell you Wealthy Affiliate, I am telling you this because I was in the same situation many years ago, in the rat game. I suppose you already know what I think, yes I know you do.
From that moment when I said "Okay, I will invest those f*cking $49 per month in WA Premium and see where it will bring me", my life changed. Why? Because you are learning real stuff, there are no false promises and there are folks who are like you and me, trying to accomplish the same.
Wealthy Affiliate is the platform that can help you to achieve financial freedom and become successful online.
It is one of the best platforms today when it comes to creating an online business and learning how to make money on the Internet.
It is a 100% legit platform with training that 100% delivers results, you have everything in one place and maybe the best thing is that you can try it completely for free if you don't want to upgrade to their Premium membership plan.
I honestly hope that this review helped you to discover and learn everything about Wealthy Affiliate, if you want to join you can click on the link below, and if you have any questions make sure to leave them below!

Hey, I'm Daniel, a 28-year-old from Serbia who has been successfully doing affiliate marketing for almost 10 years. Through years of trial, error and continuous learning, I have perfected my skills and I am delighted to be able to share my knowledge and advice through this site where you can find absolutely everything you need to start your online business.