I must say that affiliate marketing is definitely growing when it comes to making money online. Everyone today wants to make money doing affiliate marketing primarily because it brings high profit.
Anyway, not everyone can do affiliate marketing just like that, you need to know the basics and to know how it actually works.
If you were researching some affiliate courses on the internet I am sure you have stumbled upon Perpetual Income 365 (for short PI365).
Although I am recommending a Wealthy Affiliate platform as my top recommendation when it comes to affiliate marketing, many folks ask me about Perpetual Income 365 so we will see today what is Perpetual Income 365 about, how it works, and whether is Perpetual Income 365 a scam or is legit and many more.
What annoys me is that folks are usually thinking that with this kind of program or course they will make quick and easy money. The truth is different. If someone is promising you big and fast earnings you should literally run because such persons only want your hard-earned money and nothing else.
I honestly enjoy doing this kind of review because I like to offer people systems that work and unfortunately today you have many scams on the internet.
You should always check if the thing is legit before you buy it because you can't waste your money on everything.
So I don't want to waste your precious time anymore, let's get to the topic.
What Is Perpetual Income 365 And How Does It Work?

I will use simple words so that you can understand me.
Perpetual Income 365 is a course created by Shawn Josiah that could help you to achieve high profit from promoting PI 365 and earn recurring commissions.
So this course will teach you how can you promote PI 365 by doing affiliate marketing and email marketing.
When you register on this program you will become their affiliate and you will get links, landing pages, images, banners, and email templates that will help you to attract visitors and convert them to join PI 365, and when they join you will get a commission.
Your main job when you join PI 365 is to do a promotion of this program by doing paid ads, so yes, you will need to spend money. You just need to send some traffic to those landing pages you get from them because if not you will simply not earn any money. And the question is will you convert those people or not as not everyone will join.
Another source of traffic could come from organic visitors but in that case, you need to have a website where you will do promotions and that takes time. You will need to wait and work for months before you can see organic traffic coming to your site.
That is why PI 365 is talking about paid ads where you will need to invest your money to gain that traffic to your landing pages. I honestly don't like that but sure there are people who would invest money in that.
How Much Can You Earn With Perpetual Income 365?
We all know how affiliate marketing is powerful when it comes to online earnings and yes, you can earn a lot with PI 365 by promoting them and getting referrals.
I don't want to forget to say that PI 365 has a lot of upsells so you can definitely make some nice money with it.
When I was on Clickbank marketplace and look for PI 365 they say that the average conversion is about $310 which is not a small number at all. That simply means that for each referral you get to the course you can on average earn $310.
The question is how much money you will need to spend to convert even that one person? I think a lot because you will have to make them believe that this course work. People must trust you.
Later we will see should you really spend your time doing this or not. Keep in mind that not all that glitters is gold.
Who Is The Owner/Creator Of Perpetual Income 365?
The creator of this program is Shawn Josiah, a guy from Singapore who wants to help people to make money online by teaching them how to promote Perpetual Income 365 and attracting new referrals to the program.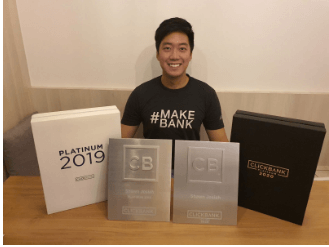 Honestly, I have never heard about this guy before until I started doing research about him.
He is a very successful affiliate marketer and he is a Clickbank Platinum affiliate which means that he is doing his job pretty well. Besides that, he is an affiliate marketer he is also a product creator.
What I like is that he is a real person and not some robot or imaginary person that hides his identity.
Is Perpetual Income 365 a Scam?
I can't say that Perpetual Income 365 is a scam but honestly, it is a little misleading. They are promising you to earn big cash pretty fast and I don't like those promises.
Working online is not easy but any means and sure, you can make money but earning a high profit in a short period is definitely not possible.
You will need to invest your time and dedicate yourself to be able to achieve serious profit.
One thing that I have found while researching this program is that people are not satisfied with such many high upsells because no one would join when hear there are so many upsells.
An owner is a legit person and this is definitely not a scam but it is so much pumped, it's like you can make millions overnight, that is the feeling they give you.
The Pros of Perpetual Income 365
Perpetual Income 365 is legit and I have found some pros of this program that can help beginners to decide should they join or not:
It is about doing affiliate marketing and email marketing which is profitable
You get promotional material like email templates, landing pages, links, banners, etc.
You can test it for 14 days for only $9 and thereafter it will be $47 per month
Money-back guarantee
You will have access to the support and Facebook group
It is for more advanced affiliate marketers
Affiliate marketing and email marketing are great ways in which you can earn money online so it is a good way that PI 365 teaches this method.
The great thing is that you can actually try this course for only $9 and test it for 14 days, if you like it and you want to continue doing it you will have to pay a monthly membership of $47.
When it comes to supporting it is also not bad. You will have access to the FB group which counts over 6k members. There you can ask questions and you will get answers from other members and their staff.
I especially like that you will have a bunch of promotional material so you don't have to waste your time on creating landing pages, email templates, and others. You will get it for free from their program, your job is only to do a promotion.
The Cons Of Perpetual Income 365
The truth is that people on the internet are saying that this course is a scam. I can't blame them because IP 365 makes you could think of it as a scam. Here are some cons that I found on this:
There are many upsells and extra costs
It is not beginner friendly
Only focused on promoting Perpetual Income 365
Misleading marketing tactics
The creator of this course, Shawn Josiah is telling you that you will make serious money using some secret Amazon and Netflix loophole in their algorithm. When you enter the course you can't find anything like that and for me, that is misleading information, just something o makes you actually buy Perpetual Income 365.
Another thing that is pretty interesting is that this course is very hard for newbies and those just starting their online journey in email or affiliate marketing. Even advanced marketers find it hard to use this system for making money.
What I especially don't like is that PI 365 is primarily focused on the promotion of their program, it's similar to MLM, you need to attract new people and make them join this course, if they decide to stay and pay a monthly subscription you will have a recurring commission.
It's only about the owner, making his earnings even higher and user-friendliness is in second place which I don't like.
Did I mention the upsells? Oh yeah, you will think that you can get Perpetual Income 365 for only $9 but this is only to make you buy this product. If I know the math right all this with upsells could cost you over $600 which is crazy but the owner must fill his pocket, right?
Why Are There Misleading Information?
I primarily think that that misleading information is because you just need to buy that course and that's it. The owner is smart like many others who are doing this type of business online.
Their primary goal is to sell their products and they want that so much that they will give much information that even does not have anything related to the product. The goal is to make money at the cost of quality, which is very wrong of course.
You will actually see that you will be said something like this, read carefully:
This system is 98% automatized, everything is done for you
People are making millions per month with this method, you can too
You will discover an awesome loophole in the algorithm that will make you rich
etc…
Isn't this strange to you? There is no "work" mentioned but only fast and easy money, proven systems, algorithms, and similar. Just to make you sure to actually buy it.
There is no mention of how much money you will need to spend on those paid ads to get traffic to PI 365 and I can say that it is not a small investment.
Do I Recommend Perpetual Income 365?
Honestly, no. I would not recommend it and especially to newbies who are looking to start making money online by doing affiliate marketing.
There are many upsells and just like I said this course can cost you well over $600 with all those upsells. Besides that, there is no guarantee that you can actually make money with this.
If you are a more experienced affiliate marketer you can actually try this and see for yourself. It is definitely not a scam but you can't earn money fast and easily as they promise you before buying the course.
My opinion is that all that money you will spend on Perpetual Income 365 would be in vain because you are going to learn primarily how to promote the product, the only focus is on the PI 365 itself.
While I was doing research I found that almost 90% of people who tried this product are not satisfied. I can understand that because it is promised to people that they will earn millions per month just by doing nothing.
You will have to spend hundreds of dollars on paid promotions and that can certainly drain your wallet pretty quick.
Sure, it's up to you will you join or not but I will give you my recommendation below when it comes to earning money from affiliate marketing.
My Alternative For You: Wealthy Affiliate Platform (Build Serious Business Online)
If you regularly follow my website you can see that I am promoting a Wealthy Affiliate platform as the Number 1. Way to make passive and serious money on the internet.
It is a decent platform that will teach you how to make a website from scratch and monetize it by doing affiliate marketing.
I am their member for over 6 years and I never plan to leave.
They have step-by-step training on how to build a profitable website in any niche and earn a passive income. There are no scams, no lies, no misleading information, and similar. You will get what you pay for and I can guarantee you that any of you can afford to invest less than $3 per day in online business.
It's not important if you are a beginner or advanced marketer, you will learn great techniques inside the WA platform that will make you financially free.
Click on the link below and start a real online business today, with my personal help and support.
Hey, I'm Daniel, a 28-year-old from Serbia who has been successfully doing affiliate marketing for almost 10 years. Through years of trial, error and continuous learning, I have perfected my skills and I am delighted to be able to share my knowledge and advice through this site where you can find absolutely everything you need to start your online business.